A few weeks ago I wrote about my experiences doing trail work for this years Hardrock 100 in Colorado. Two of the days I worked with and got to know a man named Rick Trujillo. He was fascinating to say the lest. He had some amazing stories about his past, his approach to life and running. Rick and I were walking down Bear Creek Trail (Telluride) from doing trail work on Ballard Mountain when we met Marye Jo hiking up to meet us. We invited Rick to have lunch with us at Smuggler's in Telluride. I could have sat and listened to him talk for hours. He had grown up in Ouray, just across the pass from Telluride. Over Imogene Pass it is 17 miles. By road it is about 50 miles exactly.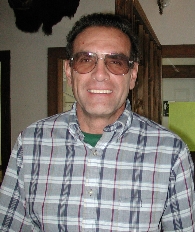 Rick Trujillo
One of the things I found interesting about him was that we shared a lot of the same philosophies and passions. * "Run for the sake of running." * "A love of being in the mountains," especially the Western mountains. And not to just look at them from a distance as my parents did, but do get up in them as far as possible. * Run the hardest mountain runs and races you can find, and do it "just because you can." * "The goal is to finish, not beat anyone, that is, (except the person in front of
me
." That in me, not Rick.) I can't help it, I am competitive.
Rick is also a storehouse of information on Colorado History and especially the mining history in the San Juan's. We talked a lot about life in Telluride and Ouray in the past. The gold mining days, the booms, the busts and finally the "white gold" days and what they have meant to towns like Telluride, Ouray and Silverton. He recommended two books, "Tomboy Bride" and "One Man's West" to find out more about what life was like around the turn of the century and the 30's and 40's in the area. I have just finished the latter, and I had to keep reminding myself, this is taking place in 1935, not mid 19th century.
I found out we share very similar dietary habits, too. At lunch at Smuggler's I ate barbecue ribs while he ate fish and chips. I have told people that I run so I can eat anything I like. Actually that is not true at all. I would run regardless. The truth is I eat pretty healthy most of the time, but I sure enjoy the terrible stuff (ribs, fish and chips, pizza, chili-cheese-dogs, hamburgers, etc...) and on occasion I gorge myself without the slightest guilt. And then there is my reward on the way home from every hard, hot, weekend run. A stop by Bruster's for a Chocolate Malt. I suspect Rick would do the same.
It wasn't until I got back
hom
e that I did a little research. I wanted to find out a little more about him. What I found out is that he is a true "mountain running legend." Among his accomplishments are 5 consecutive victories in the Pikes Peak Marathon and
setting the speed mark-15 days, nine hours, 55 minutes, for ascending Colorado's fifty four 14,000-foot peaks at age 47. He won Hardrock in 1997 as well.
Here is a link to a Runner's World article about Rick. It is worth reading.
I didn't know it, but I have had a picture of Rick in my closet for several years. His
picture
is on the back of the shirt from the first Imogene Pass Run that I ran. He was the founder and first known person to run over from Ouray to Telluride. He was training for the Pikes Peak Marathon. That is the picture..